Your One-Stop Electrician
PMG Electrical handles all types of electrical and construction projects
Circuit Additions
Many existing electrical installations require one or more additions or alterations during their lifetime. An addition or alteration may be minor such as the addition of a point to a final circuit, or major such as the addition of new final circuits, distribution circuits, or consumer units
New Construction
We provide new construction services such as running all new wiring for building and preventative maintenance.
Recessed Lights
Recessed lighting is the ideal choice for rooms where ceiling space is limited, be it indoors or out.
Troubleshooting
It is the process of analyzing the behavior or operation of a faulty circuit to determine what is wrong with the circuit. It then involves identifying the defective component(s) and repairing the circuit. Depending on the type of equipment, troubleshooting can be a very challenging task.
Electrical Work
Electrical work means wiring for, installing and repairing electrical apparatus and equipment for electric light, heat, and power… Electrical work means the installation, alteration, reconstruction, or repair of electrical wiring.
Violations Repaired
Electrical repair is necessary not only because it keeps your home safe, but also because it keeps your electricity well within local and national codes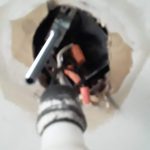 Electrical work is performed configuration, establishment, and upkeep of electrical frameworks. Whether high-voltage power transmission or low-voltage lighting, electrical work guarantees these frameworks are protected, successful, and naturally solid way.
Recessed ceiling lights are the ideal choice for rooms where ceiling space is limited, be it indoors or out. In kitchens, recessed lights provide direct light for tasks and are usually bright enough to create useful ambient light in the process. The slim dimensions of recessed lighting make it ideal for hallway lighting that can pair well with existing decore. 
An electric service upgrade to increase the amount of power coming into the house is a big job that requires professional help from an experienced electrician.
A permanently installed generator for home backup protects your home automatically. It can run on natural gas or liquid propane (LP) fuel and sits outside just like a central air conditioning unit. A backup generator powers your home directly allowing you to power when your power company loses power.